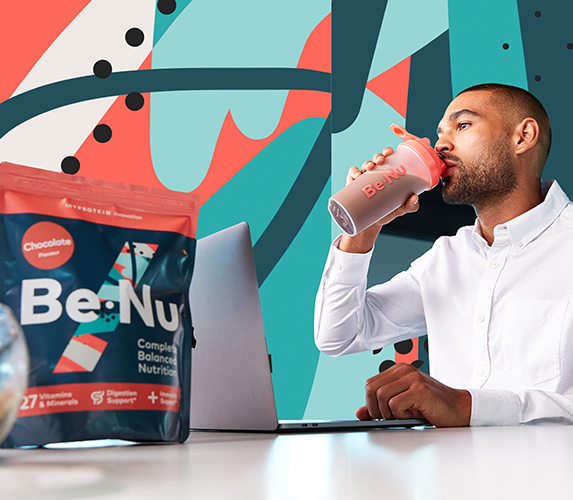 Who are we?
BeNu is Complete, Balanced Nutrition. Complete Nutrition includes everything that you need in every meal, including the ideal split of micro and macronutrients, 27 vitamins and minerals, 300 million units of gut friendly bacteria and immunity and digestive support.
BeNu is high in omega 3, fibre, protein and is low in sugar and saturated fat. There are Vegan and Dairy options available, with great flavours and no panic buying at your local service station, filling up with empty calories.
2 scoops make the perfect 200 calorie snack, whilst 4 scoops provides you with a balanced, 400 calorie meal. It really is as simple as scoop and go.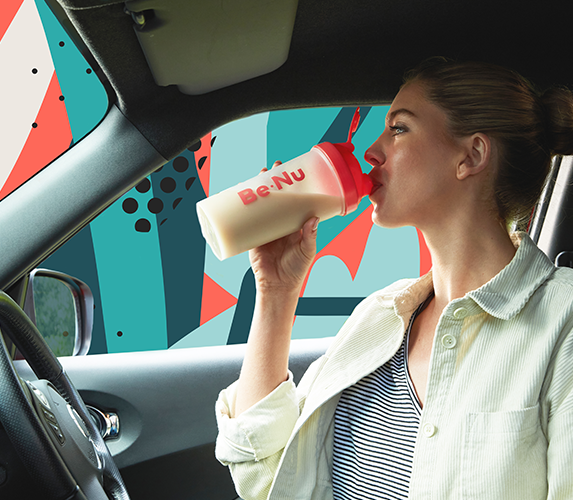 Why choose BeNu?
A complete and balanced meal: BeNu has been created by experts to provide a complete, full meal along with the right balance of micro and macronutrients.
27 vitamins and minerals: portion of BeNu contains 33% of your NRV (Nutrient Reference Value) including a premium source of calcium.
Digestion support: BeNu has everything you need to keep your gut happy, with probiotics, prebiotics and digestive enzymes.
Immunity support: BeNu is formulated with wellmune, which is clinically proven to strengthen your immune system.
Tasty flavours: Forget everything you used to know about nutrition. Throw out bland and boring and welcome our creamy Chocolate, energising Coffee, delicious Vanilla and NEW Cereal Milk, and to make it even better, all our flavours are natural. Gone are the days of artificial sweeteners!
Ready in the blink of an eye: Okay, not quite, but with less than 60 seconds prep time it might as well be.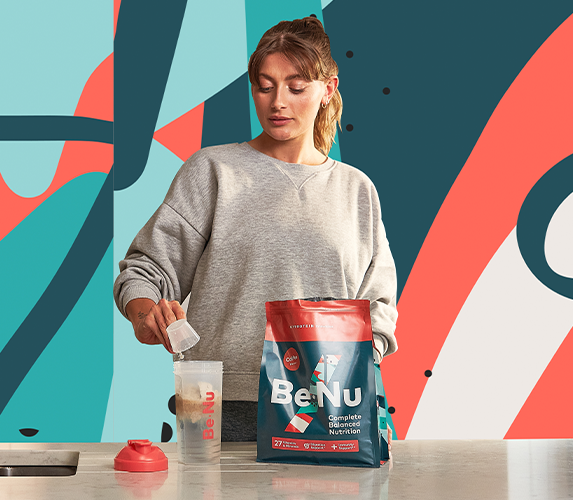 Our Brand
We are nu. We are innovative. And we are shaking up the nutrition world, one scoop at a time. Born in Manchester, we provide you with complete, balanced nutrition in a range of flavours.
Every single scoop of BeNu has been developed by nutritional experts, formulated and tested with specialist quality control methods, including near infrared scanning and x-ray machines, and we are not alone in this process.
We are proud to share that we are backed by Europe's number one nutrition brand, Myprotein. Sharing their diverse international team and world-class facilities, together, we are making it our mission to take the compromise out of nutrition. Our goal is to make healthy eating fun!
But as much as we love to show off, this really isn't about us. BeNu is about you and all our products have been formulated with you in mind. Our aim is to satisfy your hunger for proper nutrition with fresh and exciting flavours, so you can achieve optimum health. Are you ready to join us?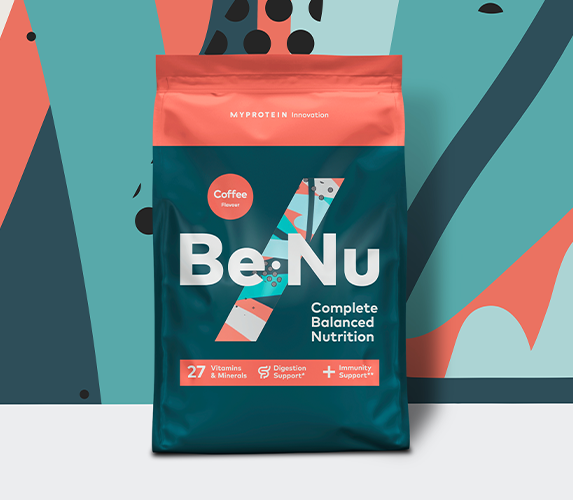 Our Products
Here at BeNu, we know the nutrition space can be a bit, well … dull, so we have put all our work into designing products that will add more excitement to your daily routine.
We started by focussing on the important stuff: flavour. Wake yourself up with our Coffee blend and feel your tastebuds come to life, refresh yourself with our Vanilla blend and if you fancy something a little more indulgent, our Chocolate blend will be ready and waiting.
At BeNu we believe everyone should have the chance to enjoy Complete Nutrition. That is why all our flavours are available in both Whey and Vegan options. Our Vegan blend is made with pea and soy protein and does not compromise on taste.
Plus, all our products are gluten free, made with gluten free oat powder and pea starch, along with flaxseed and safflower oil and Whey or Vegan protein.
Of course, we want to make sure that you love our products as much as we do. So, please get in touch and let us know your thoughts. Leave us a review, or contact us through our help centre, and we'll be listening.
Best Sellers
Added to your basket
Sorry, there seems to have been an error. Please try again.
Subtotal: ( items in your basket)